Another Satisfied Customer...
Connie was very helpful through the entire process.
Thank you so much...
Jay & Connie
Thank you so much for the chocolate and movie passes. You are so kind. We truly appreciate your kindness and the care you gave us when buying our home. That is why we always refer our friends and family to you. Hope all is well!
Love,
Rosmili, Delaney, & Odin Dunlap
Professional Realtors
I have the highest respect for Jay and Connie, as professional Realtors, and as friends. We have worked well
together for over 15 years and have never had an unhappy client.They have the highest ethical standards and serve every client from the heart with true integrity, commitment, and their special passion for great service.
I confidently recommend them to my clients whenever I can. I know my clients will benefit from their years of experience, market knowledge, and negotiating skills. The Elliot Team is an excellent choice for anyone looking to buy or sell real estate !
- Mats Kinnison

We Were Friends not Clients!
Connie & Jay made this entire experience less painful than what we have experienced in the past. We were friends not clients!
Thanks,
St. Louis Family

Absolutely Amazing!
Connie & Jay were absolutely amazing as always! Our house sold in less than 48 hrs. of being on the market. Connie always explained what was happening & kept in touch. We love Connie & Jay!

Would Highly Recommend
Jay and Connie were the first people to welcome us to a new State, and a new experience for us as a family. Upon our first meeting, they made you feel like you had been friends forever. It was a comfortable and fun experience. They are not just agents, they quickly become friends, and their service(s) never stop, even after the buy/sell. It was a pleasure working with them both! Your clients Mike & Jody St.Louis.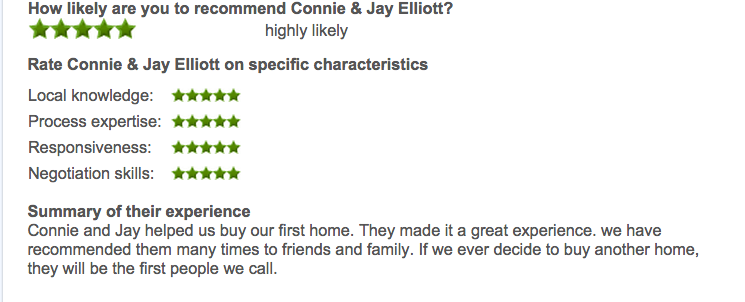 First Time Home Buyer
Connie and Jay helped us buy our first home. They made it a great experience. we have recommended them many times to friends and family. If we ever decide to buy another home, they will be the first people we call. Gary Dinwitty & Andrea Gray

Excellent Team
Connie and Jay Elliot are an excellent team. They helped us smoothly transition from out of town four years ago, and their service has never stopped. Also, they are just fun to work with! I highly recommend this team! Jeff & Sharon Winters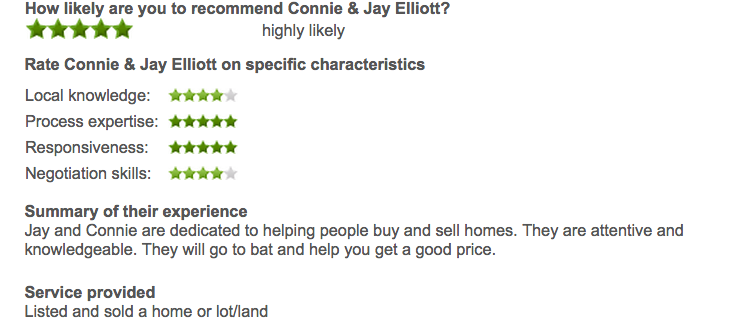 Dedicated to Helping
Jay and Connie are dedicated to helping people buy and sell homes. They are attentive and knowledgeable. They will go to bat and help you get a good price... Shana Shirts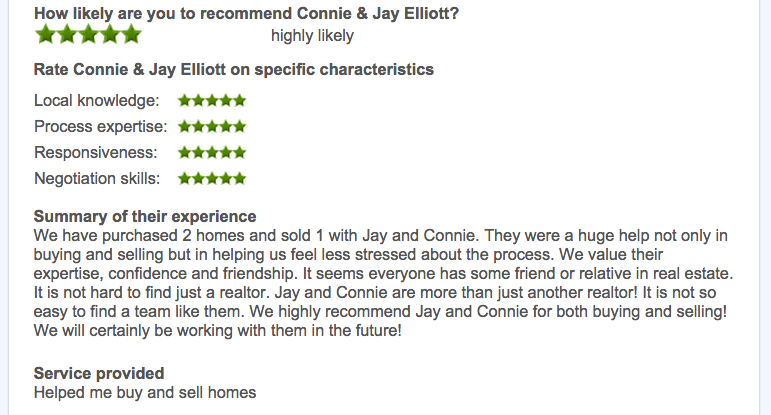 We value their expertise..
We have purchased 2 homes and sold 1 with Jay and Connie. They were a huge help not only in buying and selling but in helping us feel less stressed about the process. We value their expertise, confidence and friendship. It seems everyone has some friend or relative in real estate. It is not hard to find just a realtor. Jay and Connie are more than just another realtor! It is not so easy to find a team like them. We highly recommend Jay and Connie for both buying and selling! We will certainly be working with them in the future! Jason & Mary Ruth Wiggins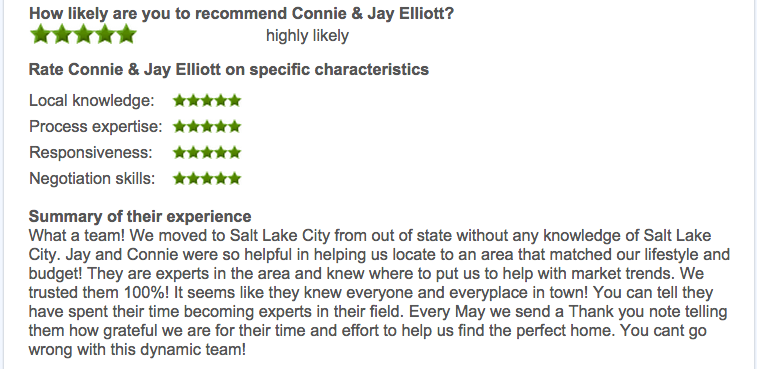 What a team!
What a team! We moved to Salt Lake City from out of state without any knowledge of Salt Lake City. Jay and Connie were so helpful in helping us locate to an area that matched our lifestyle and budget! They are experts in the area and knew where to put us to help with market trends. We trusted them 100%! It seems like they knew everyone and everyplace in town! You can tell they have spent their time becoming experts in their field. Every May we send a Thank you note telling them how grateful we are for their time and effort to help us find the perfect home. You cant go wrong with this dynamic team! Frank & Judy Gonzales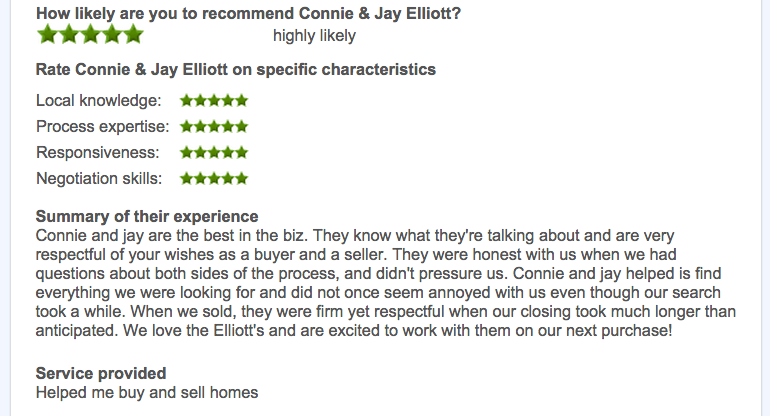 Best in the Biz!
Connie and jay are the best in the biz. They know what they're talking about and are very respectful of your wishes as a buyer and a seller. They were honest with us when we had questions about both sides of the process, and didn't pressure us. Connie and jay helped is find everything we were looking for and did not once seem annoyed with us even though our search took a while. When we sold, they were firm yet respectful when our closing took much longer than anticipated. We love the Elliott's and are excited to work with them on our next purchase! Will & Cassie Franks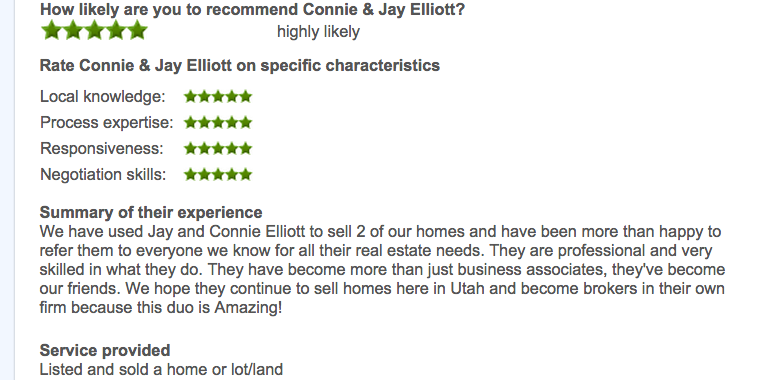 We refer them to everyone
We have used Jay and Connie Elliott to sell 2 of our homes and have been more than happy to refer them to everyone we know for all their real estate needs. They are professional and very skilled in what they do. They have become more than just business associates, they've become our friends. We hope they continue to sell homes here in Utah and become brokers in their own firm because this duo is Amazing! Jason & Crystal Worthen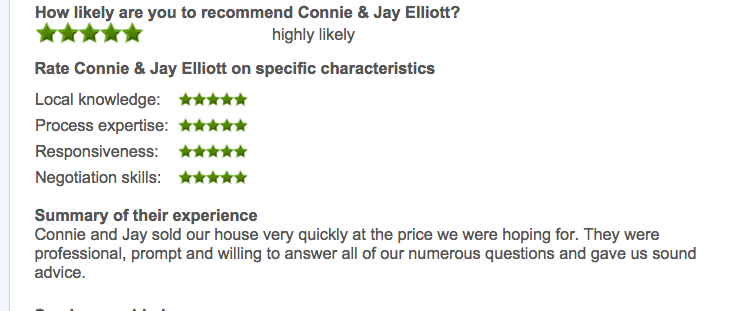 They were professional..
Connie and Jay sold our house very quickly at the price we were hoping for. They were professional, prompt and willing to answer all of our numerous questions and gave us sound advice. Dessie Rinker & Annie Darstein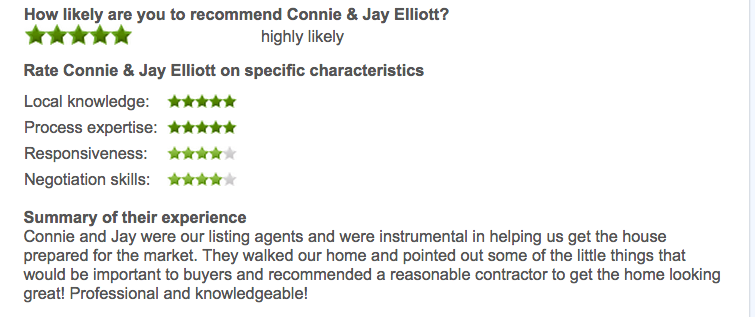 Professional & Knowledgeable!
Connie and Jay were our listing agents and were instrumental in helping us get the house prepared for the market. They walked our home and pointed out some of the little things that would be important to buyers and recommended a reasonable contractor to get the home looking great! Professional and knowledgeable! Jenifer Hurst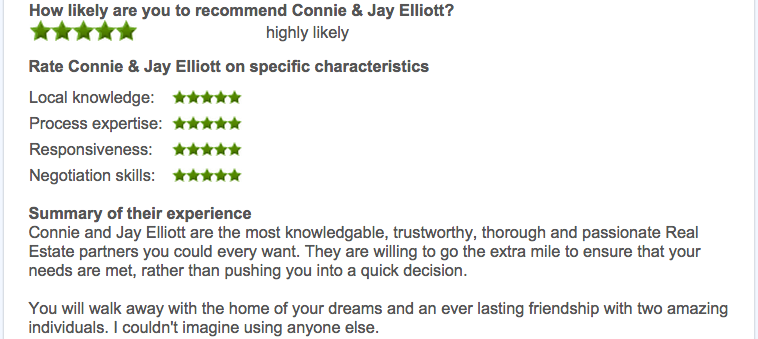 Two Amazing Individuals
Connie and Jay Elliott are the most knowledgable, trustworthy, thorough and passionate Real Estate partners you could every want. They are willing to go the extra mile to ensure that your needs are met, rather than pushing you into a quick decision. You will walk away with the home of your dreams and an ever lasting friendship with two amazing individuals. I couldn't imagine using anyone else. Dave & Amy Esser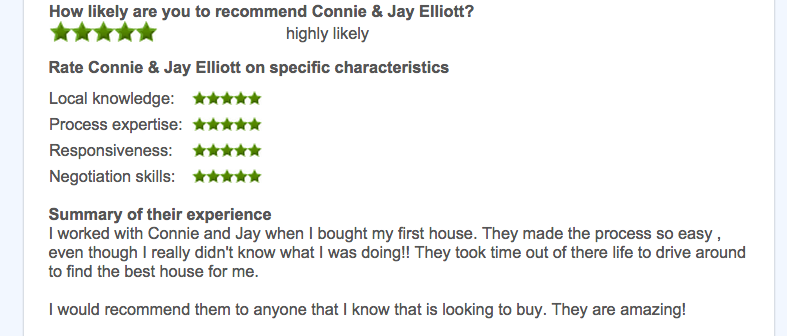 I would recommend them
I worked with Connie and Jay when I bought my first house. They made the process so easy , even though I really didn't know what I was doing!! They took time out of there life to drive around to find the best house for me. I would recommend them to anyone that I know that is looking to buy. They are amazing! Shawn & Lindsey Johnson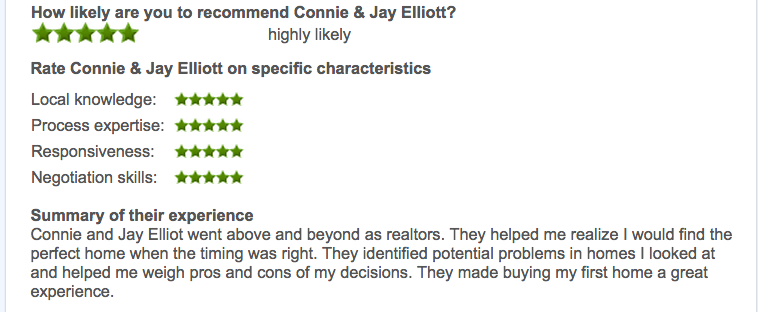 They go Above & Beyond
Connie and Jay Elliot went above and beyond as realtors. They helped me realize I would find the perfect home when the timing was right. They identified potential problems in homes I looked at and helped me weigh pros and cons of my decisions. They made buying my first home a great experience. Sara Johnson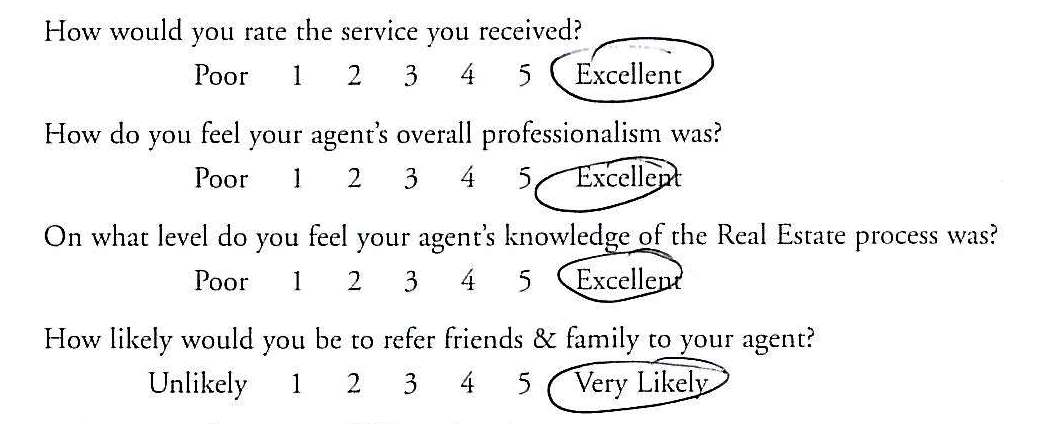 Excellent!
Excellent service, professionalism, and knowledge!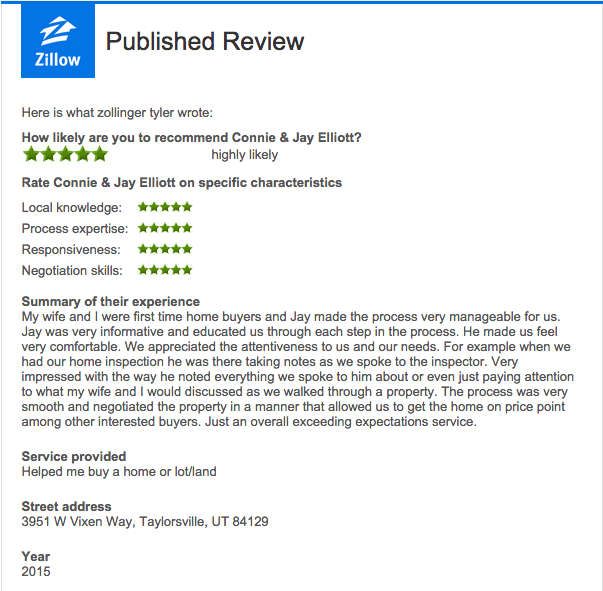 Five Star Agent
My wife and I were first time home buyers and Jay made the process very manageable for us. Jay was very informative and educated us through each step in the process. He made us feel very comfortable. We appreciated the attentiveness to us and our needs. For example when we had our home inspection he was there taking notes as we spoke to the inspector. Very impressed with the way he noted everything we spoke to him about or even just paying attention to what my wife and I would discussed as we walked through a property. The process was very smooth and negotiated the property in a manner that allowed us to get the home on price point among other interested buyers. Just an overall exceeding expectations service.

Ideal Experience
No - Ideal experience from start to finish.

Amazing
No, Connie was amazing as usual!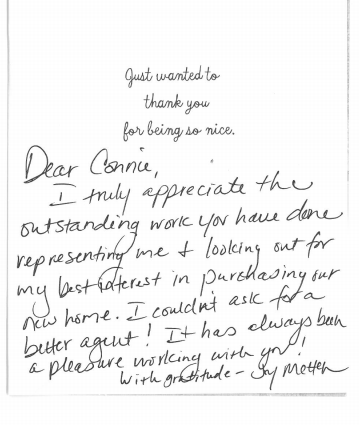 Outstanding Work
Dear Connie, I truly appreciate the outstanding work you have done representing me & looking out for my best interest in purchasing our new home. I couldn't ask for a better agent! It has always been a pleasure working with you! With Gratitude - Joy Metten

Service was Great
Your service was great. Sold our house quick.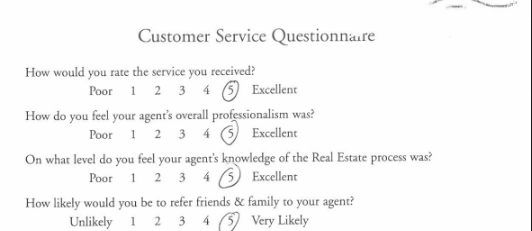 Excellent
Excellent service, professionalism, and knowledge.

Jay & Connie are Wonderful
Jay & Connie are wonderful and we will be using their expertise during our next buying/selling adventure.

Perfect
Nothing...the experience was PERFECT!!
Thank you both so much!!